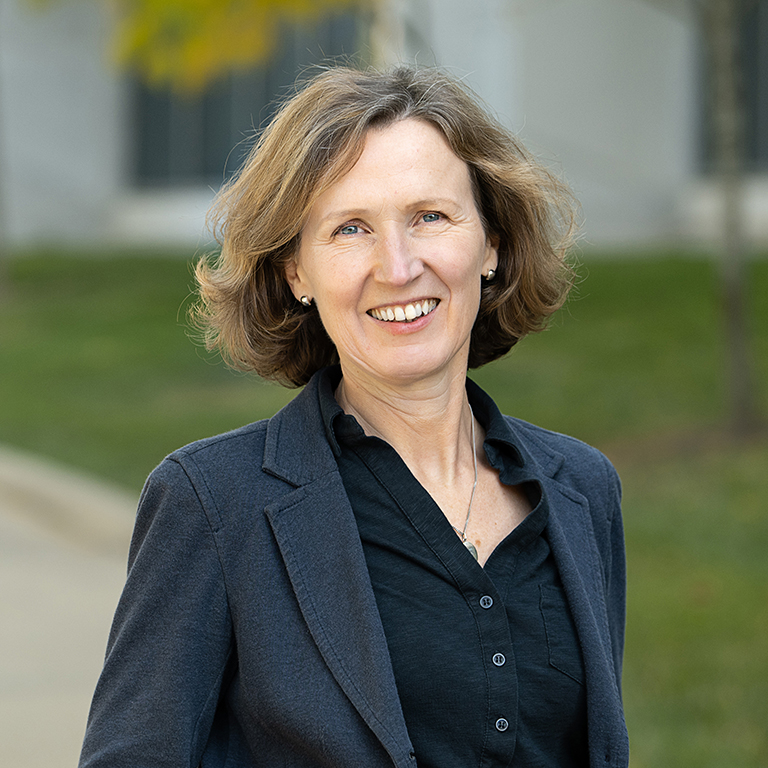 Anke Birkenmaier
Professor, Spanish and Portuguese
Department Chair, Spanish and Portuguese
abirkenm@iu.edu

Global and International Studies Building 2176
Office Hours

W

ednesday

2:00p - 4:00p and by appt.
Education
Ph.D., Yale University, 2004
M.A., Yale University, 2003
M.A., University of Tubingen, Germany, 1998
About Anke Birkenmaier
I am a scholar of modern Caribbean and Latin American literature and culture, and in studying these areas I have two major foci. I study literature in relation to other discourses such as anthropology, looking at the ways in which ideas about culture and race have evolved over time. My interest in media and sound studies has also led me to explore the ways in which the novel has entered in competition with other communication media, especially in the digital age.

My book on Alejo Carpentier, Alejo Carpentier y la cultura del surrealismo en América Latina (2006) presented an analysis of the little known early years of Cuban writer Alejo Carpentier, when he engaged with "dissident" surrealists in Paris in the 1930s (Robert Desnos, the Collège de Sociologie, Antonin Artaud), and worked for the radio and advertising industry. I argue that Carpentiers cycle of American novels, written after his return to Latin America, was profoundly influenced both by the experience he gained as a sound engineer and by the creative potential of surrealism, despite his famous later denial of the movement.

My second monograph, The Specter of Races. Latin American Anthropology and Literature between the Wars (2016) tells the story of the interconnected scientific and literary networks that established Latin American anthropology as a key discipline in the Americas from the 1920s onward. My book reconstructs two decades of scientific and literary collaborations in the service of anti-racist theories of Latin American culture. Yet even there, I argue, the persistence of biological notions of race and mestizaje has haunted Latin Americanists until today. Still, this Americanist network of the interwar years was transnational and driven by deep, both intellectual and political concerns, as my study of four key figures --Cuban intellectual Fernando Ortiz, Haitian scholar and novelist Jacques Roumain, French anthropologist and museum director Paul Rivet, and Brazilian scholar Gilberto Freyre—and their networks of scholars in France, Spain, and the United States shows.

Recent publications of mine have focused on the one hand on German cultural philosopher Oswald Spengler's longstanding interest in Latin America as well his outsized impact on Latin American intellectuals (see my editions, in German and in Spanish, of Spengler's posthumous drama Moctezuma). As director of the Center for Latin American and Caribbean Studies here at Indiana University (2015-2019), I have learned immensely from working with my Latin Americanist colleagues at IU and further. One important outcome of such interdisciplinary collaborations was the volume, edited by me, of Caribbean Migrations. The Legacies of Colonialism (2020). My next project is called, The Latin American Novel in the Digital Age, and it will allow me to explore further the ways in which Latin American writers of the 20th and 21st century have engaged with electronic media of mass communication, such as the telephone, the radio, television, and podcasts.
Specializations
Caribbean literature and culture
Modern Latin American narrative
Latin American literature and anthropology
Sound and media theory
Latin American avant-gardes
Publications
Selected articles
*"Severo Sarduy y la radio." Cámara de eco. Homenaje a Severo Sarduy. Gustavo Guerrero, Catalina Quesada, eds. México: Fondo de cultura económica, 2018.
"'Soy una Juana de Arco electrónica': Severo Sarduy's radio play 'Dolores Rondón'. La Habana Elegante. Segunda época. 57 (November 2015). http://www.habanaelegante.com/November_2015/Invitation_Birkenmaier.html
"Leonardo Padura and the New Historical Novel" A contracorriente 13.1 (Fall 2015): 13-25. Special issue: "Post-Detection Padura". Eds. Guillermina de Ferrari, Vicky Unruh. http://acontracorriente.chass.ncsu.edu/index.php/acontracorriente/article/view/1417
"El linchamiento, el teléfono móvil y la gran ciudad: dos ficciones negras de Ena Lucía Portela." Mitologías hoy. Revista de pensamiento, crítica y estudios literarios latinoamericanos (Barcelona) 10 (2014): 63-71. Special issue: "Una ventana a la obra de Ena Lucía Portela y a la narrativa cubana del siglo XXI." http://revistes.uab.cat/mitologias/issue/view/19.
"Scenarios of Colonialism and Culture. Oswald Spengler's Latin America." MLN Hispanic Issue 28.2 (March, 2013): 256-276.
"Entre filología y antropología: Fernando Ortiz y el Día de la Raza." Antípoda. Revista de antropología y arqueología 15 (Colombia) (July-Dec 2012). Special issue: "Antropología y literatura." 193-221.
"Introduction: Is there a Post-Cuban Literature?" Review: Literature and Arts of the Americas 82. 44.1. Special issue: "Cuba inside and out" (May 2011). 6-12.
"El hispanismo en América. Literatura, estudios culturales y lingüística en el panorama actual." Nuevos hispanismos interdisciplinarios y trasatlánticos. Ed. Julio Ortega. Madrid: Iberoamericana-Vervuert, 2010. 199-213.
"Art of the Pastiche: José Manuel Prieto's Rex and Cuban Literature of the 1990s." Revista de Estudios Hispánicos 43. Special Issue: "Cuban Literature of the 1990s" (2009): 123-147.
"From Surrealism to Popular Art: Paul Deharme's Radio Theory." Modernism/Modernity 16.2 (2009): 357-374.
Dirty Realism at the End of the Century: Latin American Apocalyptic fictions."Revista de Estudios Hispánicos 40 (fall 2006): 489-512.
"Travestismo latinoamericano: Sor Juana y Sarduy."Ciberletras 7: "Homenaje al centenario de la independencia de Cuba" (2002).
"Más allá del realismo sucio: El rey de La Habana de Pedro Juan Gutiérrez." Cuban Studies 32 (2001): 37-55.
Teaching
Literature and Sound Studies in Latin America (HISP S688)
(Afro)Caribbean Circuits in Literature and Anthropology (HISP S688)
Literary Returns to Realism in the Americas (HISP S708)
U.S. Latino and/or Caribbean Literature (HISP S588)
Methods in Bibliography and Research (HISP S504)
Avant-Garde Movements in the Caribbean (HISP S688)
Modern Cuba (Global Experience: Spring Break in Cuba HISP X395)
Postrevolutionary Cuba (HISP S481)
Media and Literature in Spanish America (HISP S495)
Caribbean Culture: History, Literature, and the Arts (Study Abroad course, Dominican Republic, S324/A498)
Race, Culture, and Transculturation in Latin America (HISP S474)
Spanish American Prose Fiction (HISP S420)
Introduction to the Study of Hispanic Cultures (HISP S324)
Violence in Latin America (HISP S412) 
Honors
&

Awards
Humboldt Fellowship for Experienced Researchers (2010).
Premio Iberoamericano 2007 of the Latin American Studies Association (LASA) for Alejo Carpentier y la cultura del surrealismo en América Latina.
Whiting Fellowship in the Humanities (2003-2004).
Current research projects
"Reading Scenes: The Latin/o American Novel in the Age of Electronic Communication."
Cuban Avant-Garde Journals