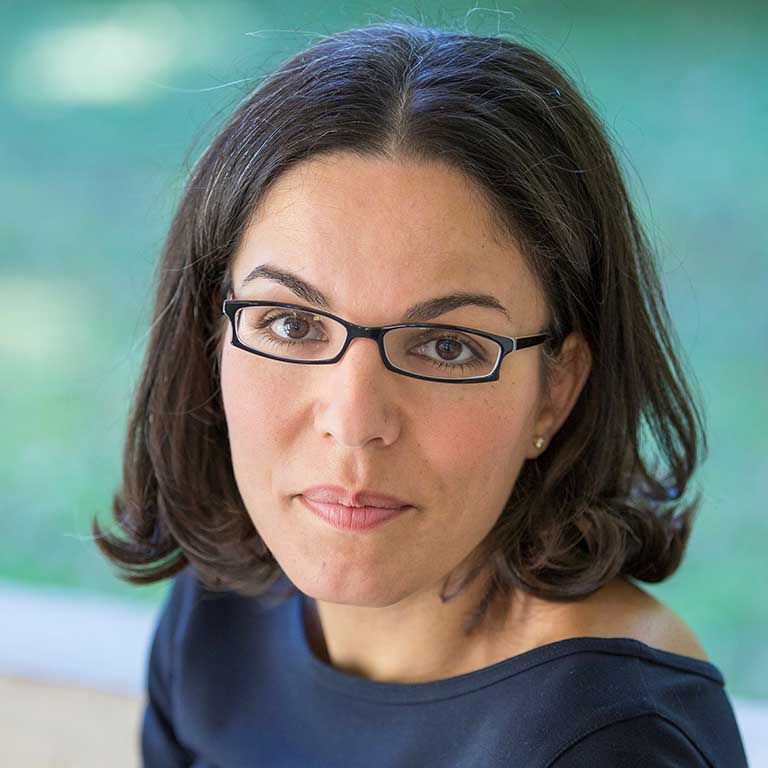 Estela Vieira
Associate Professor, Spanish and Portuguese
Associate Chair, Spanish and Portuguese
evieira@indiana.edu

Global and International Studies Building 2149
Office Hours

M

onday

3:00pm - 4:00pm and by appt

W

ednesday

3:00pm - 4:00pm and by appt
Education
Ph.D., Yale University, 2006
M.A., University of Virginia, 2001
B.A., University of Virginia, 1997
Affiliations
Comparative Literature
Institute for European Studies
Center for Latin American and Caribbean Studies
African Studies
About Estela Vieira
I am a scholar of Lusophone studies with special interests in nineteenth-century literature, film, and women writers. My first book studied the function and representation of the interior space in three realist novels. I am currently working on a manuscript that studies women authors in nineteenth-century Portugal. I am also interested in film and have published articles on film and literature, political memory and cinema, and Iberian women filmmakers. My research has focused on nineteenth-century writers including Machado de Assis, Eça de Queirós, Júlio Dinis; on Portugal's cultural history including the Lisbon earthquake of 1755; on modernist poetics and contemporary authors such as José Saramago; and on comparative approaches to Lusophone and Hispanic studies.
Publications
Selected articles and book chapters
"Maritime Disasters and Collective Identities: Surviving Shipwreck in Early Modern Portugal." Hispania, vol. 103, no. 4, 2020, pp. 545-55.   

"Female Friendships: Communities and Legacies of Women Readers and Women Writers in 

Ana Plácido and Guiomar Torresão." Revista de escritoras ibéricas

, vol. 8, 2020, pp. 

101-130. 

 

"Gender Violence and Historical Memory in Margarida Cardoso and Isabel Coixet." Women in Iberian Filmic Culture: A Feminist Approach to the Cinemas of Portugal and Spain, edited by Elena Cordero-Hoyo and Begoña Soto-Vázquez, Intellect Books, 2020.
"Image, Historical Memory, Politics: Margarida Cardoso's Kuxa Kanema and Susana de Sousa Dias's 48." Women's Cinema in Contemporary Portugal, edited by Mariana Liz and Hilary Owen, Bloomsbury, 2020, pp. 129-149.
"Transatlantic Modernisms: Portugal and Brazil." Transatlantic Studies: Latin America, Iberia, and Africa, edited by Cecilia Enjuto-Rangel, Sebastian Faber, Pedro García-Caro, and Robert P. Newcomb, Liverpool UP, 2019, pp. 397-405.
"Nature's Literary Lessons: Júlio Dinis on Literature and the Environment." Portuguese Literature and the Environment, edited by Victor Mendes and Patrícia Vieira, Lexington Books, 2019, pp. 107-120
"Cinematic Walls: Pedro Costa's Mural Imagination." Journal of Lusophone Studies, vol. 2, no. 1, 2017, pp. 165-180. 
"The Art of Stealing: Eça de Queirós and Kleptomania." Revista de Estudos Literários, no. 6, 2016, pp. 239-260.
"Discourse and Disaster: A Universal History of Lisbon's 1755 Earthquake." Portuguese Literary and Cultural Studies, no. 29, 2016, pp. 70-91.
"National Cinema and Intertextuality in Alejandro Amenábar: From Hollywood to Julio Cortázar." Bulletin of Spanish Studies, vol. 91, no. 8, 2014, pp. 1229-1244.
"Politics and the Aesthetics of Absence in Margarida Cardoso's Cinematic Work." Hispanic Research Journal, vol. 14, no. 1, 2013, pp. 67-85.
"Discovery as Mediation: Luís de Camões's Account of the Portuguese's Arrival in India." Portuguese Literary and Cultural Studies, no. 21/22, 2012, pp. 369-382.
"Álvaro de Campos's Ultimatum: An Old Recipe for a New Portuguese Poetics." Luso-Brazilian Review, vol. 47, no. 2, 2010, pp. 120-134.
"The Aquatic Unconscious: Water Imagery in Eça de Queirós's A cidade e as serras." Portuguese Studies, vol. 26, no. 2, 2010, pp. 168-182.
Specializations
Portuguese and Brazilian literatures and cultures
Nineteenth-century women writers
Film and literature, Iberian women filmmakers
Portuguese cultural history 
Nineteenth-century narrative
Teaching
Global Portuguese: Arts & Culture
Women Writing in Portuguese 
Theater in Portuguese: Nation & Identity
Literature & Film in Portuguese 
Literatures of the Portuguese Speaking World
Thinking in Portuguese: Essay, Criticism, Theory
Contemporary Portuguese Literature
Poetry in Portuguese
Portugal: The Cultural Context  
Advanced Grammar & Composition in Portuguese
Luís de Camões
Structure of the Portuguese Language
Current research projects
Portuguese women writers of the 19th century 
Women in Iberian film 
Machado de Assis's female readers